International inheritance law
It is increasingly common for an estate to have an international character and to be settled across national borders. For example, when a testator has a home, business, or other assets abroad, such as a holiday home in France, Spain or Italy or an apartment in Monaco, or a participation in Luxembourg, Ireland or America or a bank account in Switzerland.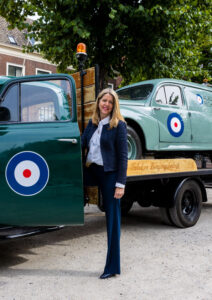 It is not unlikely that you will have to deal with so-called "trusts" in your estate, especially in Anglo-Saxon countries. Trusts are separate assets to which special rules apply. Dutch law itself does only recognize some of these trusts.  Germaine has a lot of experience with trusts in different countries, so she can advise you extensively on this.
Which law applies to the inheritance and settlement of the estate if the estate is partly located in another country? Which court has jurisdiction, a Dutch one, or a court abroad?
The European Inheritance Regulation has been in force for Europe since August 2015, but there are many countries outside of Europe to which this regulation does not apply.
Germaine uses her many years of experience to help you settle your international estate as favourably as possible. Where useful, she works together with local specialists, also abroad.
Several lawyers present themselves as advisers for the settlement of foreign components of estates.
In practice, they often contact a foreign advisor but do not check whether they are applying the law correctly. CBEA however, always does an extensive investigation of its own.
Is that necessary you might say? Well, it is all too common for foreign lawyers to indiscriminately apply inheritance law from their own country when an estate falls open in their country. However, that is not always the appropriate law, and applying the wrong law can cost clients a lot of money.
A recent example in my practice?
A client was entitled to the estate of her Italian father who had a business in Croatia and died there. The client's Croatian lawyer recommended my client a settlement with father's girlfriend, because under Croatian inheritance law my client was entitled to part of the estate only.
The Croatian lawyer had not done proper research however, and did not notice that father was legally and material resident in Germany, where he lived with his girlfriend. In my report I showed that although father regularly stayed in Croatia, he did not live there. Therefore, the law of his habitual domicile, Germany, applied. German inheritance law – which I had also extensively examined for my client – does not entitle a cohabiting partner to a share in the estate.
The Croatian lawyer eventually admitted. This saved my client quite a considerable amount of money because she was now entitled to the entire estate.
This is only one example of the specialized work CBEA performs for you as an experienced lawyer in international inheritance law.